DISCOVER AND LEARN HOW TO LOOK AT 250 MASTERWORKS OF MODERN ART FROM 1750 TO THE PRESENT
ENJOY HOURS OF ART APPRECIATION AT YOUR OWN PACE IN FIVE THEMATIC MODULES
TAKE ADVANTAGE OF A RICH PROGRAMME OF FILMS, ENTERTAINING LEARNING FORMATS, ENGROSSING TEXTS AND A COMPREHENSIVE TIMELINE OF ART HISTORY
COMPLETELY FREE OF CHARGE – THANKS TO THE SPONSORSHIP OF THE STÄDELSCHER MUSEUMS-VEREIN E.V.
Move on
Experience "Art History Online – The Städel Course on Modern Art" – at no cost and exactly when it suits you. Learn about art history and visual studies in a richly varied way as you proceed through the five modules of the course on your computer or tablet at your own pace.
Based on roughly 250 selected works from the collection of Frankfurt's Städel Museum, the course provides you with multifaceted insights into modern art, from 1750 to the present. The competent and entertaining moderator Sebastian Blomberg, a stage and screen actor, guides you through the course. With a multimedia combination of film, texts, playful learning formats and a comprehensive timeline, you are concisely and clearly presented with expert theoretical knowledge. The sounds of the Berlin musician Boys Noize accompany the learning experience.
As you work through the modules you will encounter various topics that progress thematically. Your understanding of works of art from 1750 to the present will be developed through questions and tasks that help you form your own critical response to art. You can test the knowledge you have acquired in various tasks within each module.
Throughout the entire course a timeline is also available to you as an important aid to orientation. There you will find a wealth of background information about works, artists, styles and schools, as well as historical, cultural and political contexts.
Whether you already have a basic knowledge of art history or simply enjoy looking at art, "Art History Online – The Städel Course on Modern Art" will offer you fresh, enjoyable insights into art history. It is an ideal accompaniment to self-study and continuing education.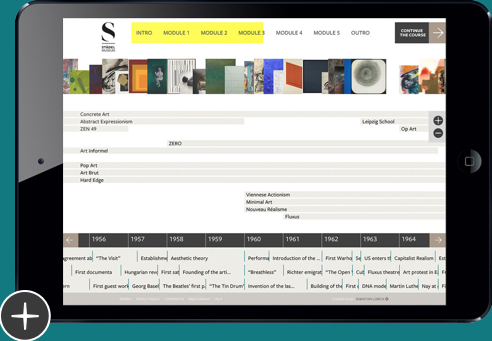 The online course was developed by the Städel Museum in collaboration with the Art History Chair and the Centre for Digital Cultures at Leuphana University of Lüneburg.
The online course is sponsored by the Städelscher Museums-Verein e.V. with support from the Christa Verhein-Stiftung.
What a splendid idea and successful result! You captured my attention hour after hour and the genre of modern art which I had eyed somewhat suspiciously up to then, became accessible to me.

Graduate of the course

This is the best digital tool that I have ever seen and used. It is a great delight to learn more about art with this course.

User of the course

I studied art history myself and regard this online course as a brilliant way of arousing interest in museums. My friends and acquaintances are also excited about it.

User of the course
It was with great enthusiasm and pleasure that I worked through the modules. From my point of view - I am in IT and for me art is the antipole to one and zero - both the concept and the implementation are very well done.

User of the course

I don't know of any media project which is so convincing and of such high quality as this one: outstanding design, excellent media implementation, a great visual experience, an exciting treatment of contents, highly aesthetic, informative and entertaining with a personal guide throughout. Thank you so much. I will certainly recommend you.

User of the course

This is great! It is a good way to stay in touch with you across the Atlantic. Thank you so much. I am very much looking forward to the course.

With best regards from Michigan